If you don't already read
Steph's
blog, you really ought to! Not only is she funny, but she is really nice and has cute dogs...and that is all we really want, right? Anywho, she started a linkup for people to write about what they are thankful for each week- genuis idea! I am happy to participate in the first ever weekly Gratitude!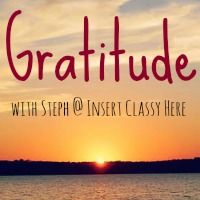 So...drumroll please....what I am thankful for this week is...
SUMMER IN MINNESOTA! Finally!
Ok, so really it has felt like summer for a few weeks now, but you never know in MN when the summer is actually here, or if its just another false alarm. It finally feels like outdoor baseball weather (which I enjoyed on Monday night as the Twinkies lost miserably to the Yankees), the is no greater place to be than on a patio with a cold beverage, and the people of Minnesota have literally come streaming outside in hoards to gather at the lake. We earned it, afterall.
I am also thankful for the blogging community. I said this before, but thank you so much to everyone who came to my defense and supported me after I posted about the nasty
ex-vegan situation.
It means so much. Speaking of awesome bloggers, I also want to take this chance to start planning another blogger yoga class!
Ever since the last MN Blogger Yoga class, I've had several sweet requests for more classes. Ask, and you shall receive! I want to hear from you all though. If you are interested in coming to a class, please leave a comment regarding the following questions:
What day of the week works best? I have a couple open Sundays in July, but a weekday evening would work too.
What time do you prefer? Obviously it would be in the evening if during the week, but I was thinking either of a Sunday morning yoga/brunch situation or mid to late afternoon.
Location preferences? I was thinking outdoor yoga sounds pretty awesome. We could find a flat grassy area near a lake...let me know if you have somewhere in mind! Lake Calhoun or Harriet are convenient for most people, but they also get busy.
What type of yoga do you want? Vigorous? Relaxing? Any requests?
Let me know, hope to see lots of you there!